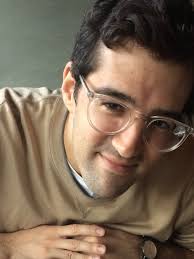 Michael Homolka grew up in Los Angeles and lives in New York City. His poems have appeared in publications such as Antioch Review, Boulevard, The New Yorker, Parnassus, Ploughshares, and The Threepenny Review. Various incarnations of his book-length manuscript have been named a finalist for the National Poetry Series, Tupelo Press Dorset Prize, and Yale Series of Younger Poets. Recently, his collection Antiquity, published by Sarabande Bookes (2016) won the 2015 Kathryn A. Morton Prize in Poetry. After working in book production for over a decade, he now has a new career as a public high school English teacher through the New York City Teaching Fellows program.
Winner of the Kathryn A. Morton Prize, Michael Homolka's Antiquity offers the present infused with the past, from Ancient Greece to the Holocaust to contemporary battlefields. A haunting and evocative debut. Available on Amazon.
If you're interested in hearing Sharon read at live events check out Sharon Israel events.